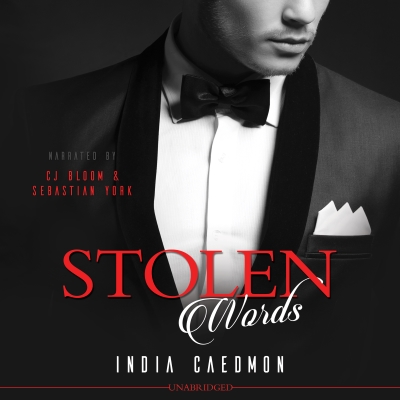 Stolen Words: The High Tower Series
A preview and sample of the audiobook
written by India Caedmon - Host Addison Barnes
About the book: 
It was supposed to be one letter. One time...
Cassidy Thatcher has just been fired. In an attempt to salvage her life, she flees to New York City to rebuild her career. Desperate for hope, she passes her time writing love letters to her fiance in the US Navy, but the Big Apple has other plans.
Grayson Daniels has a brilliant mind but is not so brilliant when it comes to relationships. After being asked to assist the Navy with nuclear research, he finds himself aboard an aircraft carrier where he accidentally intercepts a letter not meant for him. Cassidy's words enthrall him... But what started as an innocent fascination soon becomes an uncontrollable desire.
When Grayson learns of Cassidy's financial problems, he manipulates matters into his own hands. And when Cassidy's relationship with her fiance begins to crumble, Grayson is there to pick up the pieces, reminding her that love doesn't always have to be a sacrifice.
His secret isn't safe for long. Can a foundation be reconstructed on stolen words? Or will Cassidy mark their romance return to sender?
Reviews:
India Caedmon's enchanting prose provides an edge-of-your-seat love story. Stolen Words offers the perfect ingredients for an exceptional romance novel ―multi-dimensional protagonists, undeniable sexual tension and riveting plot twists. India Caedmon's enchanting prose provides an edge-of-your-seat love story. I truly enjoyed the interplay between Grayson Daniels and Miss Cassidy Thatcher. Daniels is handsome, brilliant, and delightfully clueless in the relationship department. Thatcher is smart, sassy, and eager to discover her unique voice. They are a match made in heaven. I'm waiting in greedy anticipation for the next book in the series!
The mind-blowing content! I've yet to decide a worthy description of how amazing this book is. With a clever plot and amazing character build, this book would not leave my hands. Those that will read this book will more than likely read it again just to fall in love with the characters all over again (except kyle). This is a book that proves that the nice guy wins. A scenario that most men believe doesn't happen. I can't wait for the next one.
Great read! Overall this was a really great read! I'm intrigued for the next book! 
 
 
India Caedmon
Audiobook Download Links: