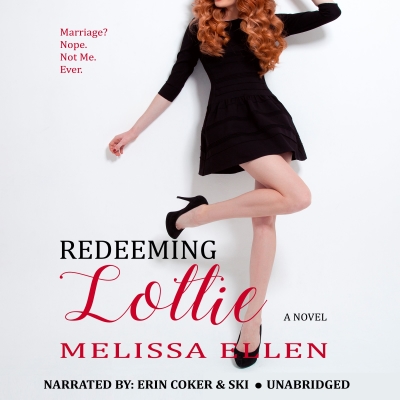 Redeeming Lottie: The Billingsley Series
A preview and sample of the audiobook
written by Melisssa Ellen - Host Addison Barnes
About the book: 
Things I never planned on happening in my life: getting married, being a mother to a house full of kids, and returning to my small hometown in Texas.
I especially never planned on seeing Tucker Monroe again. Sexy smile. Country charm. A man and a life I left behind for a reason. 
The only plan I had for myself was my career. My career as a buyer for one of the largest high-end department stores was the only commitment for which I had time. The only one I was willing to make. 
Now, being left with no choice but to return to my hometown, I'm finding it hard to remember why I left in the first place. Because all that's on my mind is Tucker. He is just as sexy. Just as charming. Just as dangerous as he used to be...
Reviews:
A great story about finding yourself and coming home! A great read about learning to love. My favorite takeaway: "... a person needs to know whether they succeed or fail, the worst thing to do would be to never try. The feeling of regret is worse than the feeling of failure. There's the opportunity for growth and recovery with failure. There's nothing to gain from regret."
Wow, this book will have you laughing and crying! Lottie is an independent successful woman. She returns home after her mother passes away. She has been gone for 12 years and left some unfinished business between her and her high school boyfriend! Tucker has never stopped loving Lottie, but she broke his heart when she left without telling him. Can they find their way back to each other? Or will her insecurities ruin her chances at a happily ever after?
Fantastic fun emotional second chance! A fantastic well-written second chance romance that was entertaining and emotional. This engaging smooth flowing storyline included loss, betrayal, stubbornness, secrets, bullying, regrets, and lots of love. The characters were realistic, interesting and had lots of hot chemistry. I enjoyed their banter and was on the edge of my seat during their heartfelt journey towards a HEA, then the storyline twists as others interfere. I honestly and voluntarily recommend and am reviewing this ARC.
 
 
Melissa Ellen
Audiobook Download Links: