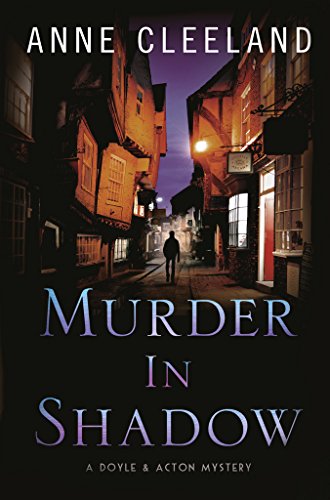 Murder In Shadow
An Acton & Dolye Mystery, #6
Host Marnye Young (narrator) shares questions with the author of the book, Anne Cleeland.
The Story: It seemed a little strange, that Detective Sergeant Kathleen Doyle wound up being the ranking officer on this particular homicide scene. It was true that DCI Acton was off somewhere, testifying, and DI Williams was chasing down witnesses on the latest Santeria murder, but Doyle couldn't shake the feeling that she was being manipulated, by one or both of them. But to what end? The unidentified victim was a wealthy man, who shouldn't have been mucking about in a Lambeth alley, in the first place. Who was he? And why were Acton and Williams staying well-away, with only Doyle left to sort it out? It was almost as though they didn't want the case to be resolved too quickly. . .
About the Author:  Anne Cleeland holds a degree in English from UCLA as well as a law degree from Pepperdine University. She worked as a research attorney for federal and state court judges, a legal writer in private practice, and a guest lecturer at several universities. She is currently at work on her next Scotland Yard mystery featuring Acton and Doyle. She lives in California and has four children.
About the Narrator: Marnye Young is an award winning narrator for NY Times and USA Today bestselling authors. She is a Yale MFA grad SAG-AFTRA voice stage and screen actor who has spent her life in the South, Midwest and North. Having performed in Romania, Sweden, Scotland, NYC and more she has been reviewed for her impeccable comic timing as well as her ability to make you cry and has been called an accent guru. When she isn't narrating she's podcasting, writing a self-deprecating comical blog about her identical twins, fishing, following NASCAR, volunteering (CRIS radio, TIC and Learning Ally), running a small playreading group in NYC, raising chickens and of course "mom"ing. Her favorite literary character is Sherlock Holmes.
| | | |
| --- | --- | --- |
| |   | |
| Anne Cleeland |   | Marnye Young |