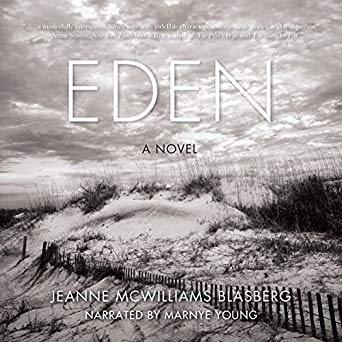 Host Marnye Young (the Audio Sorceress) talks with author Jeanne Blasberg about her novel, "Eden: A Novel."
Jeanne is a voracious observer of human nature and has kept a journal since childhood. A firm believer that you are never too old to change course, she enrolled at Grub Street, one of the country's pre-eminent creative writing centers, where she turned her attention to memoir and later fiction. Eden is her debut novel.
About the Book: Becca Meister Fitzpatrick―wife, mother, grandmother, and pillar of the community―is the dutiful steward of her family's iconic summer tradition... until she discovers her recently deceased husband squandered their nest egg. As she struggles to accept that this is likely her last season in Long Harbor, Becca is inspired by her granddaughter's boldness in the face of impending single-motherhood, and summons the courage to reveal a secret she was forced to bury long ago: the existence of a daughter she gave up fifty years ago. The question now is how her other daughter, Rachel―with whom Becca has always had a strained relationship―will react.
Eden is the account of the days leading up to the Fourth of July weekend, as Becca prepares to disclose her secret and her son and brothers conspire to put the estate on the market, interwoven with the century-old history of Becca's family―her parents' beginnings and ascent into affluence, and her mother's own secret struggles in the grand home her father named "Eden."
Click here to purchase Eden: A Novel on Amazon
Click here to purchase Eden: A Novel on iTunes
Click here to purchase Eden: A Novel on Audible
 
 
Jeanne Blasberg