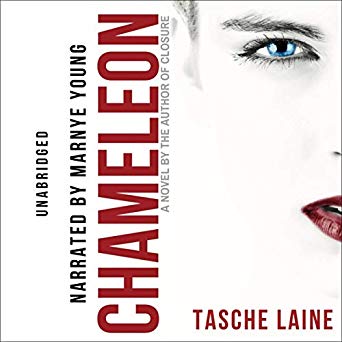 CHAMELEON
By Tasche Laine   
Host Addison Barnes presents a preview and interview.
This week our audiobook is Chameleon, a domestic thriller and sequel to Closure, written by Tasche Laine and narrated by Marnye Young.
ABOUT THE BOOK:
Perfect isn't good enough.
Recently divorced, Tara Spencer is a devoted single mom to her eleven-year-old daughter and is still healing from her failed marriage of fourteen years. As she embarks on an exciting new career, the last thing she needs is a man in her life. Then she meets the alluring Dr. Geoffrey Jensen, a bedazzling psychotherapist who isn't what he seems. Adept at manipulation, Geoffrey toys with Tara's mind, compelling her to change for him.
When she discovers his shocking secret, will she find the courage to get out in time, or will it be too late?
WHAT PEOPLE ARE SAYING:
Amazon and Goodreads critics are very excited about Chameleon, consistently awarding five stars! 
"Chameleon is a gripping and suspenseful domestic thriller sure to keep you riveted until you reach the final page. FIVE STARS!"
"Great read, engaging, moving, and authentic."
"Fast-paced and exhilarating!"
ABOUT THE AUTHOR:
Tasche Laine has worked as a journalist, newspaper columnist, teacher, and studio teacher to child actors and models in Hollywood--but her best role is being a proud mom. Her daughter is now all grown up and in college. She's lived all over the U.S. and currently resides in the beautiful Pacific Northwest.
Her first book, Closure, is a 2018 International Book Award winner, in recognition of excellence in writing, for Readers' Favorite. It is a fictional memoir based on Tasche's own life. 
ONLINE PRESENCE:

Audiobook Download Links:
Until next time, remember to listen to a Silverton Audiobook and get your story on!
 
Contact us at info@silvertonaudio.com.
Check out Silverton Audio's blog!