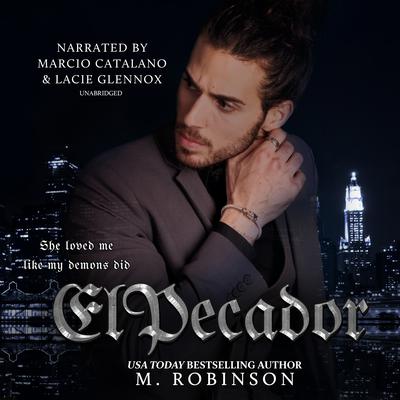 El Pecador
A preview and sample of the audiobook
written by M. Robinson - Host Addison Barnes
El Pecador is the sequel to El Santo. In book 1, El Santo, 18-year old Damien Montero is the son of a dangerous man who is part of a Cuban regime. Forced to follow in his father's footsteps, Damien becomes the protector of 9-year old Amira after his involvement in the brutal murder of her family. Amira grows up hidden from the regime with Damien sheltering her, keeping her at arm's length while sending a hopeful girl mixed signals about a love that could never be.
El Pecador, begins years after the shocking and devastating ending of El Santo. Damien is a man who has done it all and seen it all with nothing left to lose, having left behind the only piece of him that mattered—his Muñeca—his heart. Years have passed . . . and in walks a vision he thought he would never see again, forcing him to confront all he has lost. Their reunion is explosive, exquisite heat. And now that Amira is back, there is no way in hell he will ever let her go, no matter what the price. With danger snapping at their backs and the truth always a step away, what follows is an unraveling of events that leave the reader breathless as corruption, greed, and revenge work to rip apart their forbidden love forever. Told from dual point of views, El Pecador is a road to redemption and reunion that is a perfect blend of intrigue, suspense and angst, drenched in sensuality.
Reviews:
According to USA Today:
A visceral, dynamic and cinematic sequel, El Pecador fires on all cylinders from the get-go. 
The Chatterbox Book Blog critic writes on Goodreads:
El Pecador is the highly anticipated conclusion to El Santo, and if you thought that things couldn't get any worse, you're in for a rude awakening. I'm so emotionally exhausted right now, I honestly don't even know what to do with myself. If you're looking for a dangerous and sexy forbidden romance, then this series is for you. 
Romance critic and blogger Stephanie, says:
Once again. M. Robinson has blown my mind. El Pecador is amazing. It will shock you, rip your heart out, and rock you to your very core. I was losing my mind! It's an action-packed thrill ride from beginning to end, and a soul-searching love story you have to experience on your own. This is a must read right along with El Santo. (Don't forget you have to read it first.)
GoodReads member Lily Garcia describes her reaction to El Pecador:
Words can't express how I am feeling right now. I just finished reading one of my top favorites of 2018! My heart is so full of emotions at the moment! I mean, how do you move on from one of M. Robinson's best series yet? I can't and I won't- at least not for a while. She has blown my mind once again with this amazing conclusion! I don't know how she can top this book! It was EVERYTHING and so much more! Just when I thought I knew how the story would go, M would blindside me with all her twists. 
Shellfish Bookscritic Michelle Chambers writes:
This book has wreaked havoc on my soul since the beginning. The ups and downs of it. By far, my favorite book. You can feel all their love. All their pain. All of it. The angst. The suspense. The hatred. The love. The heartbreak. Every ounce of it drips from the words M Robinson has written. We knew Damien wasn't going to be easy. We knew it was going to be better than the others before it. That's the beauty of her words. Each book sets the bar so high for the next one. I seriously can't think of another person who writes the way she does, or who puts so much of themselves in every book. I know it's hard on her, all the voices in her head. I don't know how she does it. She blows my mind. Every. Time.
About the author:
M. Robinson is the USA Today bestselling author of the Good Ol' Boys stand-alone series, the VIP Trilogy, Tempting Bad, and Two Sides. Nicknamed "The Queen of Angst", Robinson never fails to deliver 5-star action-packed, emotionally charged, sexy, gut-wrenching action that leaves her readers exhilarated and spent.       
 
 
Author M. Robinson
Audiobook Download Links: