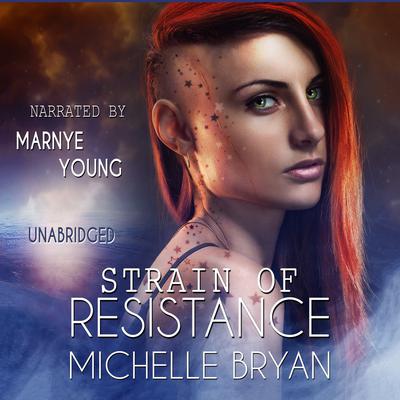 Strain of Resistance
A preview and sample hosted by Addison Barnes.
This week our audiobook is a thrilling science-fiction adventure. Strain of Resistance is the first novel in author Michelle Bryan's new and exciting Bixby series, and is narrated by the Audio Sorceress, Marnye Young.
About the story: 
Bixby was twelve years old when extraterrestrial parasites invaded Earth and ended the world as we know it, slaughtering humanity and taking possession of its bodies. Now she's 18 and part of a group that searches for survivors while destroying the invaders. While searching for a missing group member, Bixby discovers the unimaginable:
The invaders are evolving.
They can talk. 
They're organized.
And they're just getting started.
Reviews:

Red City Review gives Strain of Resistance 5 stars and writes:
With likable characters, uncertain futures, and a desire to know what happens next, the novel is easily finished in a day, and skipping work is highly recommended. With more books in the series, readers are sure not to be disappointed with Bix's journey. 
Rabia Tanveer for Readers' Favorite also gives Strain of Resistance 5 stars and writes:
What a protagonist! Bixby is strong, resilient, and something out of this world, but still extremely relatable. The characters are gritty and raw, as they should be, and this just makes them that much more believable. The environment was ideal for the world she created. The novel was thrilling, satisfying, and made me beg for the sequel! Simply amazing.
Amazon and GoodReads critics are also loving Strain of Resistance, singing its praises and consistently awarding five stars!
About the author:
Michelle Bryan is a USA Today bestselling author. She resides in Nova Scotia, Canada with her three favorite guys; her hubby, son, and fur baby, Garbage. She is a huge fan of The Walking Dead and Game of Thrones, and never misses an episode. She also believes every day should consist of reading, writing, chocolate, and coffee - not necessarily in that order. She is the author of the New Bloods Trilogy and the Bixby series.
You can find out more about her books by visiting her website at http://www.michellebryanauthor.com/ or follow her on Goodreads or Facebook. She would love to hear from her readers, so feel free to leave comments and ask questions.
Audiobook Download Links: