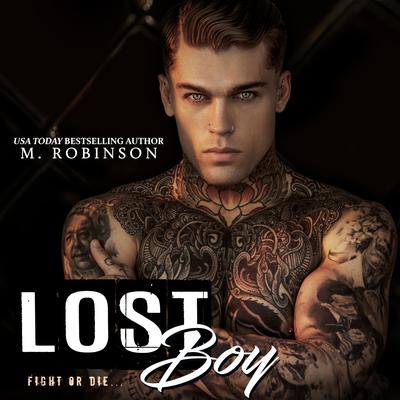 Welcome to the Silverton Audio Weekly Podcast. I'm your host, Addison Barnes, to tell you about one of our audiobooks. Later, I'll share a sample from the book.
This week our audiobook is Lost Boy, a steamy, emotional cyclone of a romance, written by Author M. Robinson and narrated by Brian Callanan and Sydney Wales.
ABOUT THE AUTHOR
Author M. Robinson is the USA Today bestselling author of the Good Ol' Boys stand-alone series, the VIP Trilogy, Tempting Bad, and Two Sides. Nicknamed "The Queen of Angst", Robinson never fails to deliver 5-star action-packed, emotionally charged, sexy, gut-wrenching action that leaves her readers exhilarated and spent.    
Follow her on her blogs, www.authormrobinson.com and www.authormrobinson.org. You can also find her as @authormrobinson on twitter, Instagram, and Snapchat.
ABOUT THE BOOK
Here's a brief overview of what one reader described as her "best book hangover":
We first met Noah Jamison in Road To Nowhereand Ends Here. If you haven't read these novels, don't fret because this book is a stand-alone. (Although both are highly recommended reads on their own.) Noah was born into a world of violence and fear. The only light in his horrible life is the beautiful Skyler Bell—who has her own secrets and sorrows. The two meet as children and quickly grow to love one another as adults, but their pasts collide with their present. The result is a tempestuous, dark, passionate, sexy ride you never want to end. And when you finally reach the last page, the trip was so worth it!
Here's a brief look into Noah's character:
In a world where I had no say, violence became my refuge, and nothing else mattered.
Not even my own life.
Until her.
Skyler Bell.
It all started the first time I heard that voice. Giving me hope for tomorrow. My first love was everything all at once.
Consuming.
Maddening.
Forever.
Mine. 
Except, I never imagined there were secrets that needed to be shared. Lies that needed to be confessed. Truths that needed to be told. 
Demons that needed to be buried. 
Once I realized the depth, the longing, the sadness and sorrow in her eyes mirrored mine, it was too late. Love didn't come to me as heartbreak, it came as everything I've ever wanted. Walking away wasn't an option, but it was the only choice I had.
I finally found the price of love and it cost me...
My soul.
Lost Boy contains mature themes and strong language.
WHAT READERS ARE SAYING 
Goodreads and Amazon critics are cheering over the characters in Lost Boy and are consistently awarding five stars! Here's what people are saying:
Lost Boy took me on an exhilarating thrill ride that absolutely gutted my emotions yet had me loving every moment.
Lost Boy characters Noah and Skyler own your heart from page one and won't let go.
All of the things we've come to love about an Author M. Robinson read, but Lost Boy is on another level altogether. If I could give Lost Boy 10 stars, I would.
Lost Boy hands-down deserves more than five stars! It deserves all the stars and is one of my top reads this year!
Lost Boy exudes love, loss, desperation, heartache and passion in a way that rocks your world. It gives a new and complete meaning to finding your soulmate under daunting circumstances.
We thank you for listening and hope you enjoyed this excerpt from Lost Boy by Author M. Robinson.  
Until next week, this is Addison Barnes, reminding you
to listen to a Silverton Audio book and get your story on!
Audiobook Download Links:
 Contact us at info@silvertonaudio.com.
Check out Silverton Audio's website and blog!
This podcast has been a production of Silverton Audio.  Copyright 2019; all rights reserved.